Description
Built to Perform
Made for the most demanding workloads, with the built-in efficiency, durability and cut quality you require to tackle the tough jobs.
Designed for Long Hours
Stay protected day in and day out with top-of-the-line ergonomic and customizable comfort features.
Pro Support Hub Included
Access our unique 1:1 service solution with product and maintenance information, live tech support, parts and service dealer locating, and more for landscapers.
Heavy Duty Construction
Made for serious mowing with a durable 1.5 in. x 3 in. tubular steel frame.
Up to 24 HP Kawasaki Engine
Power through the toughest turf work with an FS or FR commercial Kawasaki engine.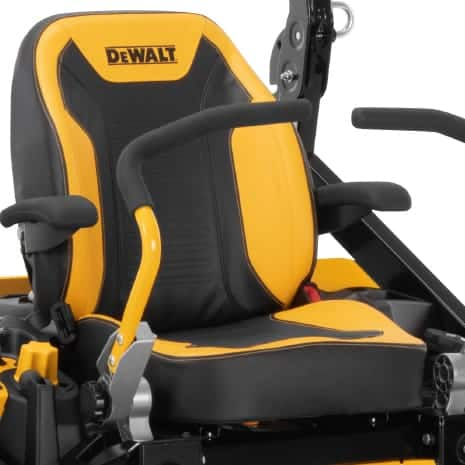 Ergonomic and Customizable Comfort Features
Stay protected all day with an impact-absorbing, automotive-inspired seat; ultrawide foot pan; adjustable lap bars; and more.
High Performance Wheel and Caster Design
Maintain stability, traction, zero-turn maneuverability and a smooth ride at up to 9 mph.
Multiple Deck Sizes
Maximize efficiency with an up to 60 in. reinforced fabricated 10-gauge deck.
Large Jobsites
Tackle 4-10 acres without breaking a sweat.
Challenging Terrain
Well suited for rolling hills and maneuvering around obstacles.
Guaranteed Tough Since 1924
Products backed by a brand that's built and tested under the most demanding jobsite conditions.
4-Year Warranty
Four-year, 600-hour-limit on Z148 and Z160; 800-hour-limit on Z254 and Z260.
Together We Build
This DEWALT mower is Made in the USA with Global Materials.
This is what we mean by heavy duty. Built to tackle 4-10 acres with ease, the new DEWALT Z254 54 in. commercial zero-turn mower can take on the big jobs – delivering a consistent, professional-quality cut in challenging conditions and over large areas of land. Every component of this heavy-duty workhorse is designed with the professional in mind. The 24 HP Kawasaki engine offers professional performance with optimal efficiency, while our most powerful transmission delivers up to 500 ft/lbs. of output torque. A durable 1.5 in. x 3 in. tubular steel frame provides maximum strength and rigidity with easy access points for routine maintenance. State-of-the-art wheel and caster designs provides a more professional cut, optimizes trim capabilities, and maintains a smooth ride at higher speeds, while an extra-wide 54 in. cutting deck gets the job done fast. Operators will stay protected over long hours with top-of-the-line ergonomic and customizable comfort features like an automotive-inspired, fully adjustable, padded high-back seat, a dial-in adjustable lap bar, and a wide foot pan. Extremely durable and backed by an industry-leading warranty, this mower is built to stand up to the rigors of daily professional use. Reduce downtime through the Pro Support Hub for landscapers; with product registration, access 1:1 service solution with product and maintenance information, live tech support, parts and service dealer locating, and more Rely on consistent, premium performance and reliable starting with the commercial-grade 24 HP Kawasaki FS engine; as required by Kawasaki, horsepower tested in accordance with SAE J1995 and rated in accordance with SAE J2723 and certified by SAE International Cut confidently with a 4-year, 800-hour limit warranty Operators of all sizes can feel comfortable on the wide foot pan with room to position legs for the long days and hard jobs Customize comfort with the fully adjustable lap bars that can be dialed-in for an exact feel Maintain ideal results with minimal effort with the intuitive dial-in deck height adjustment, which makes changing heights easy with 17 positions Have a smooth ride up to 9 mph forward and 3.5 mph reverse on 23 in. high and 12 in. wide rear wheels and front casters A tougher frame built for even tougher jobs, the rectangular 1.5 in. x 3 in. ​tubular steel frame End the day more comfortably with the automotive-inspired, fully adjustable, cut and sewn high-back seat with armrests; designed with landscapers in mind, the seating systems absorbs the impact of the terrain, making each ride less harsh on the operator Achieving the perfect stripe in the first pass is possible; the front caster wheels are offset, which provides greater trim capabilities and better cut quality, while maintaining stable deck balance for a clean, concise cut on every blade of grass Designed with safety in mind with upper frame with rollover protection bar and seat belts Quickly and effortlessly engage the blades and make quick work of the task at hand with an electric PTO Power jobs and the long workdays with 5.5 Gal. gas tank Designed and built to withstand the rigors of professional use Collect grass clippings from the lawn easily and efficiently with the large, 11-bushel capacity DEWALT 54 in./60 in. Z Series triple bagger (part no. 49A70004038) Return grass clippings and essential nutrients back to your lawn with the 48 in. DEWALT mulch kit (part no. 19B70065000) Depend on DEWALT blades for a precise and consistent quality of cut (part no DXGX110209; DEWALT blades are the only blades engineered to withstand the tough and demanding jobs that your DEWALT mower experiences week after week